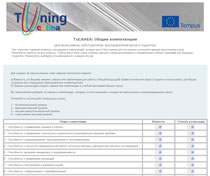 Thanks to the work and commitment of tens of TuCAHEA partners, since June 2013 several thousand respondents have accessed the TuCAHEA website in order to contribute their ideas about the importance and the degree of achievement of key competences in higher education.
A Central Asian list of 30 generic competences was agreed in the Almaty meeting and forms one of the objects of the on-line consultation. Eight Subject Area Groups (SAGs) for Business, Economics, Education, Engineering, Environmental Protection and Food Safety, History, Language and Law elaborated lists of competences for their area, and these are also object of the consultation.
The groups asked to give their opinions and ideas are students, academics, graduates and employers. The on-line consultation will close on 15 August and the data will be available for analysis on 21 September.