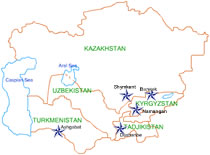 Second Cycle of Country Meetings

During the months of October, Country Meetings were carried out in three of the five partner countries: in Uzbekistan, the Country Group was hosted by Namangan State University (NSU), under the aegis of the Country Coordinator, Pulatkhon Lutfullayev (10-11 October 2013); at Talas State University (TSU) in Kyrgyzstan (13-15 October)(Country Coordinator Rahat Bekboeva); and at Shymkent State University (SKSU) in Kazakhstan (19-20 October) (Country Coordinator Gulnara Zakirova). In November Country Meetings will be held in Ashgabat (Country Coordinator Charymuhammed Shallyyev, 11 November); and in Dushanbe (Country Coordinator Zarrina Kadirova, 12 November).
In each meeting there is a first public session in which the achievements to date and future prospects of TuCAHEA are illustrated; the rest of the meetings are dedicated to the analysis of the data resulting from the consultations, and preparation for the work to be accomplished by the Subject Area Groups during the macro-regional Bishkek Conference.