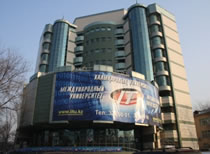 The first Plenary meeting of the TuCAHEA partnership will be held in the Conference Hall of the International Information Technologies University (IITU) in Almaty on June-August 2013.
More than 90 representatives of the TuCAHEA partnership and speakers will be present. The programme includes a public part, with the welcome of the Rector of IITU, Prof.DamirShynybekov, and the Country Coordinator for Kazakstan, Gulnara Zakirova.  Welcoming speeches will be delivered also by AigulZharylgassova of the European Union Delegation to the Republic of Kazakhstan, NurlanIzmailov of "Zerde" State Holding, and Ms.ShaizadaTasbulatova of the National Tempus Office. Julia González Ferreras of the university of Desto, Joint General Tuning Coordinator, will speak about Tuning worldwide, while Ann Katherine Isaacs, of the University of Pisa, will present the TuCAHEA Project.
Working sessions will follow, in which the partnership, building on the results of the five meetings held in the five partner countries in February and March, will begin the construction of a Central Asian view of the Generic or 'transversal' competences and nine Subject Area Groups will begin their work.
Programme eng - rus
Conference Materials pdf
Leaflet pdf
Postcard front - back